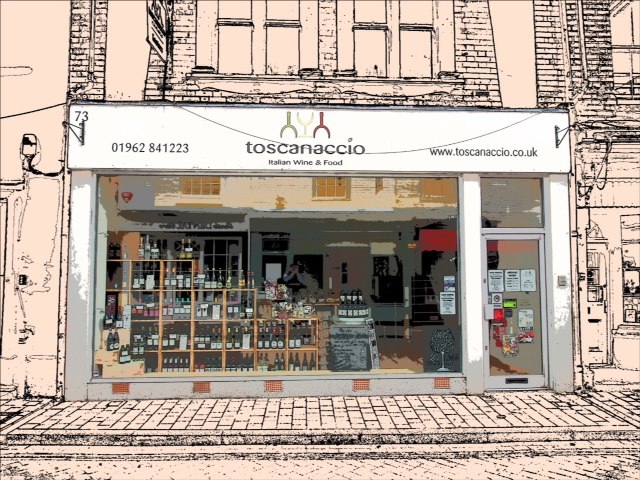 Opening Hours
Mon: Closed
Tues-Thurs: 10am-5pm
Fri-Sat: 10am-6pm
Sun: 11am-4pm
Closed on Sundays in August
About Us
"Enoteca: A special type of local or regional wine shop that originated in Italy. The concept of an enoteca is primarily directed at giving visitors the possibility to taste their wines at a reasonable price and to give the option of buying them."
Oxford companion of Wine, Third Edition 2006.
Toscanaccio is modelled on the Italian enoteca. We have made it our mission to source high quality wines and deli produce from Italy incorporating many small producers into our range. We are an Italian specialist but we do have small parcels of vinous delights from other countries that tempted our tastebuds!
Our relaxed seating upstairs allows our customers to experience the Italian way of enjoying wine with a plate of antipasto.
We hold frequent wine tastings on Thursday evenings - check the tastings page or sign up to our mailing list and we will notify you as dates become available. This room is also available for private tastings for small parties or corporate events, please contact us for details.
Team Toscanaccio
Cat

Cat found her passion for wine during a nine-month placement in France, as part of her studies as a mathematician, promptly joining Oddbins in 2005 and picking up several WSET qualifications. Along the way Cat picked up a love of all things Italian and a rather guilty (and expensive) enjoyment of Burgundian wine. Bored with drinking the same Italian wines she decided to open her own place full of interesting, unusual wines. Cat didn't expect to become a runner yet she currently finds herself panicking about her first ultramarathon, planned for June 2024.

Thom

An archaeologist by trade Thom has been a member of the team since day one. Thom sees himself one day becoming a modern day Indiana Jones. He has a love of Spanish reds in particular and can usually be found here at weekends. In his free time (how does he fit it all in?!) Thom enjoys a spot of cooking, the enjoyment of a good drinking establishment and he'd enjoy squash if we'd play with him but he's definitely much better than us.

Emma

Emma would be the first to say that she didn't 'get' wine before she became acquainted with the shop. She has spent her years with us developing her palate and now she is a tasting note machine, producing some of our more off-the-wall notes. Emma loves a fruity red and is a big fan of an unusual grape variety.

Ben

Ben doesn't really work here but as he's married to Cat he can occasionally be found behind the till. We don't often let him recommend wines as his tasting notes, though succinct, perhaps lack some of the class you've come to expect of us. He's currently growing back his beard after shocking everyone with his naked face.